Revolutionize
Scroll
Revolutionize
Vios Monitoring System
The Vios Monitoring System is an FDA-cleared wireless internet of things (IoT) platform designed to reduce the cost of healthcare and improve patient outcomes through clinical workflow automation and virtual patient care services.
Meet the Revolution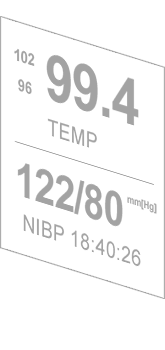 Revolutionize
Medical Grade IoT Sensor
A lightweight, flexible hardware and medical-grade software based solution designed to optimize the management of patients throughout the continuum of care.
Meet the Revolution
Revolutionize
Virtual Patient Care Services
In the near future, Vios Medical will bring it's Virtual Patient Care Services online, which is staffed by highly experienced ECG monitoring technicians and clinicians. Our staff collects, processes, and responds to patient physiological data taking the burden off on-site clinical staff, therefore reducing the cost of labor and enhancing productivity by allowing clinicians to focus on other aspects of patient care.
Meet the Revolution
Mission-Driven Care
Vios Medical is revolutionizing patient management by creating innovative solutions designed to reduce the cost of healthcare, increase clinician productivity, and improve patient outcomes.
Behind the Technology
93%
of clinicians and patients prefer the Vios Monitoring System over legacy monitoring systems.*
*Vios Medical Market Validation Study.
Revolutionize How Healthcare is Delivered
From physicians to nursing staff, the global healthcare industry is facing a troubling shortage of skilled clinicians at a time when the demand for healthcare resources is increasing exponentially. With our solution, Vios Medical has created a FDA-cleared patient management platform that utilizes IoT-based sensors and virtual patient care services to automate and streamline common clinical workflows – easing the burden on clinicians, lowering the cost of care, and improving patient outcomes.