MEET VIOS
Scroll
Vios Monitoring System
The Vios Monitoring System (VMS) is a wireless, FDA-cleared, internet of things (IoT) patient monitoring solution designed to improve patient outcomes and reduce costs. The VMS enables clinicians to continuously monitor a patient's 7-lead ECG, heart rate, respiratory rate, pulse rate, SpO2 and posture. It also accommodates the manual entry and input of blood pressure and body temperature data. Healthcare facilities are able to leverage their existing IT infrastructures and deploy the solution throughout their various care settings.
The Vios Monitoring System is a cost-effective solution designed to detect the early signs of clinical deterioration in traditionally unmonitored patient populations.
See Our Solution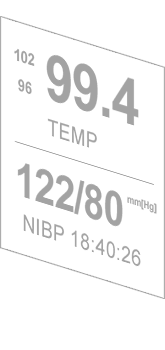 Up to 75% of adverse events and preventable deaths occur outside the ICU in unmonitored beds.*
*Haraden C. Diagnostics for Patient Safety and Quality of Care. Patient Safety Executive Development Forum, Institute for Healthcare Improvement. 2014. Available
here
.