Leverage Technology to Improve Patient Care and Reduce Operational Costs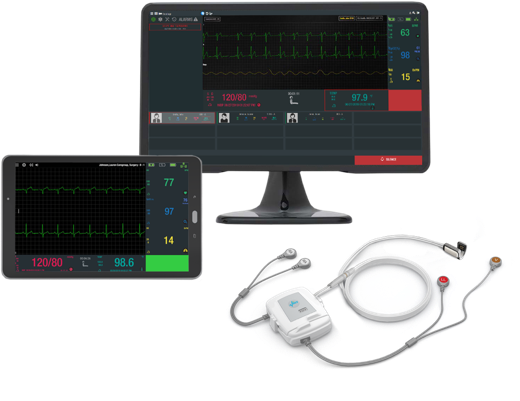 The Chest Sensor
Small, lightweight chest sensor for optimal patient comfort
The Vios Chest Sensor is a wireless, FDA-cleared medical device that enables continuous monitoring of a patient's vital signs data. Its small size and wireless connectivity provide a 7-lead ECG, heart rate, respiratory rate, SpO2, pulse rate, posture and activity.
Cleanable, reusable chest sensor
Small, lightweight wearable design
Diagnostic quality 7-lead ECG
Compatible with standard ECG patches
Adapter with detachable pulse ox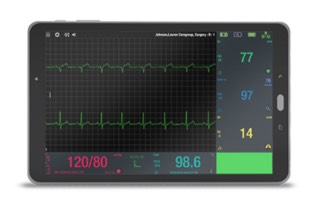 Bedside Monitor and Software
Real-time, actionable vital signs data at the point of care
The Vios Bedside Monitor processes and displays data from the chest sensor and other third-party sensors.
Battery operated or AC power
Small, lightweight and portable
Up to 8 hours battery longevity
Table-top or rolling stand mounting options
Touchscreen for easy interactions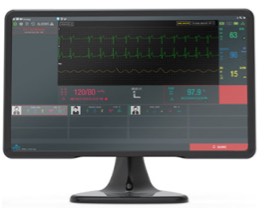 Central Station Monitor and Software
Easily view summarized vital signs information or create detailed custom reports
The Vios Central Station Monitor and Software solution enables the monitoring of multiple patients simultaneously. Customizable alarms notify when established limits have been exceeded. Viewing options facilitate easy retrieval and review of all alarm-related information.
View up to 60 patients simultaneously on multiple screens using a single computer
Data is automatically stored, easily retrieved
Annotation options for recording notes
Event reports with corresponding
clinical data
Central Server and Cloud Software Connection
Vios makes IT simple, handling your server and infrastructure-related needs
Vios devices and software operate on a private, encrypted network. All data is encrypted in transit and at rest.
Container orchestration and redundant VPNs ensure system availability
24/7/365 IT support access for Vios-related issues
Redundant site-to-site VPN's are configured to ensure resource availability
HIPAA-compliant
The Vios Difference
The innovative design of our monitoring system meets the needs of your patients
A Single, Small, Lightweight, Comfortable Sensor
Vios has developed a small, lightweight chest sensor that has been optimized to assure it can be comfortably worn by the patient. It continuously monitors a 7-lead ECG, heart rate, respiratory rate, SpO2, pulse rate, and posture. Patient comfort has been prioritized to assure the system allows for an unencumbered recovery experience.
Wireless Connectivity Using Your Existing WiFi Network
No need for installing a proprietary network or routing expensive cables throughout your facility. The Vios solution works with your existing WiFi service. Vios manages connectivity beyond your facility to our central servers. No need to hire IT resources. Vios will manage the installation and maintenance for you. Patient recovery can occur without the fear of tripping over wires or limitations to their mobility within your facility.
Diagnostic Quality 7-Lead ECG with Advanced Cardiac Monitoring Capabilities
Vios utilizes a 7-lead ECG configuration to provide multiple vectors for arrhythmia analysis if needed. Advanced filtering and algorithms are used to accurately identify and annotate lethal arrhythmias when they occur. For patients with a pacemaker, each paced beat is identified and annotated to assist in the clinicians' ability to correctly determine the patient's underlying and paced rhythm presentation.
Posture and Activity Tracking
Vios Chest Monitor has a built-in 3-axis accelerometer for keeping track of patients' movements during their recuperation process. To minimize the possibility of bedsores and pressure ulcers, clinicians can be notified when the patient needs to be repositioned to ensure adequate perfusion occurs to all parts of the body.
Find the ROI of continuous vital signs monitoring
Calculate your facility's ROI
Use our calculator to learn how the Vios Monitoring System can deliver value for your post-acute care facility.